Explore this past museum exhibit right here online!
Hmong in Wisconsin Exhibit
Learn about Wisconsin's vibrant Hmong community and how the Hmong people have become an important part of the fabric of the state through this temporary exhibit at the Wisconsin Historical Museum.

The Hmong overcame adversity as they fled war-torn Laos in the wake of the Vietnam War to establish a new life in Wisconsin. Together, this community has built support systems to preserve their traditions and to help one another as they enrolled in schools, started businesses, and strove for independence. While their shared experience and history of perilous journeys, refugee camps, and discrimination will never be forgotten, these tragedies do not define them. The Hmong story is a story of survival and hope as they have become an important part of Wisconsin communities.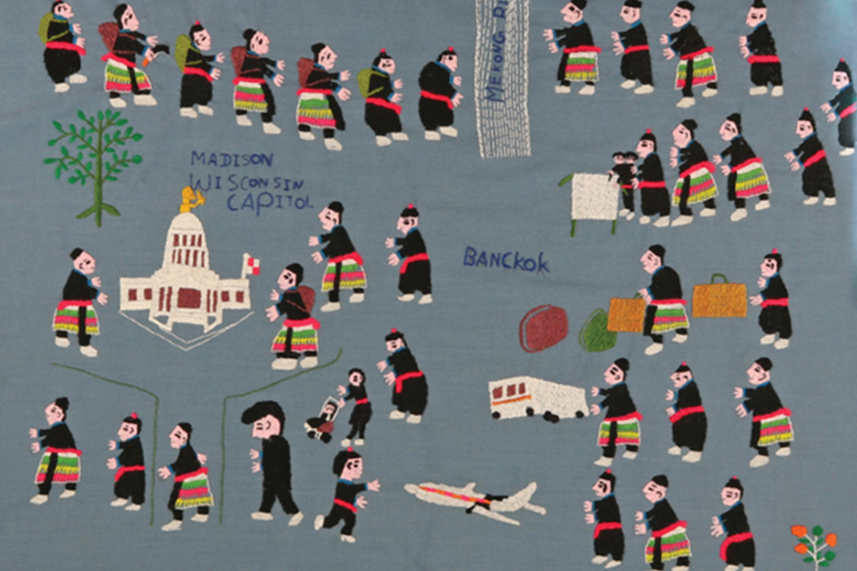 ---
Exhibit Highlights
Kashoua Kristy Yang
Elected to Milwaukee County Circuit Court in 2017, Kashoua Kristy Yang became the nation's first Hmong American female judge. Courtesy of Kashoua Yang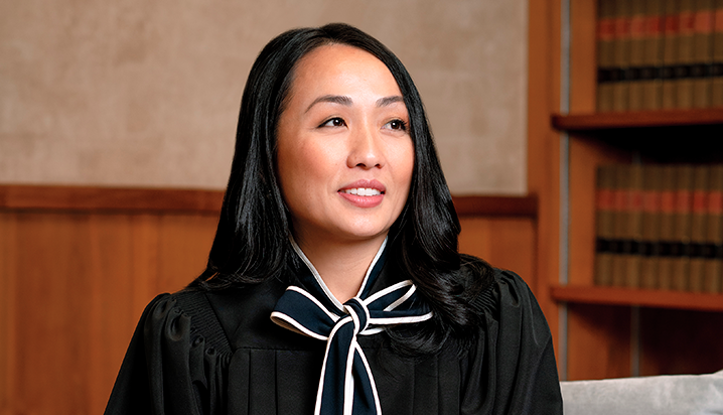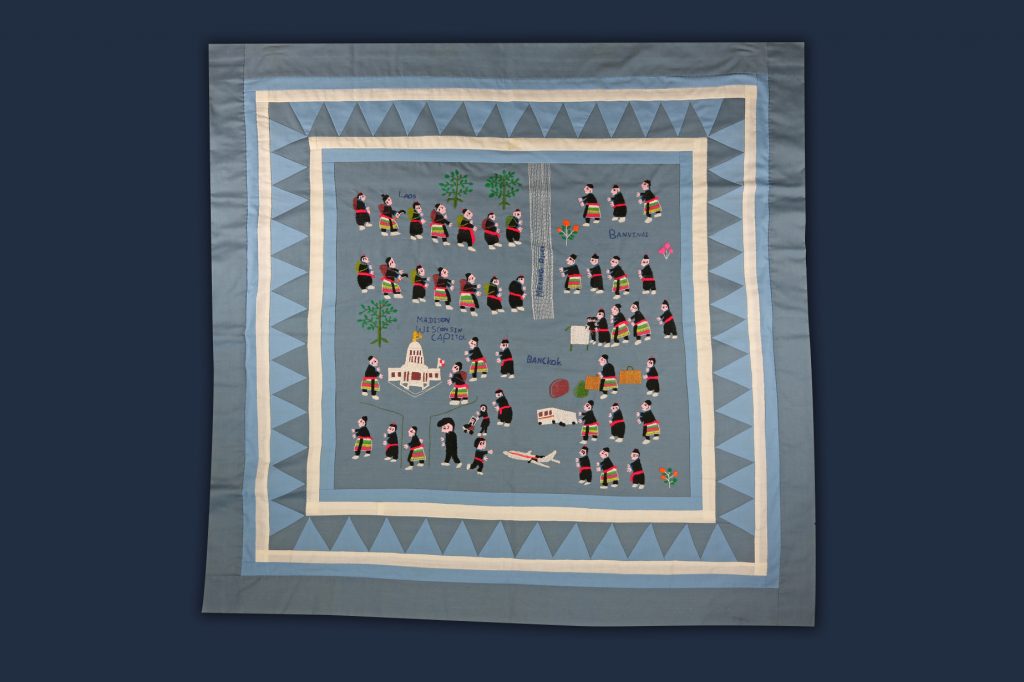 Story Cloth
Story cloth depicting the Secret War in Laos and the Hmong escape across the Mekong River, made by Ge Yang.
WHS MUSEUM 2017.32.2
Miss Hmong Madison
Diane Vang (center) is crowned Miss Hmong Madison 2013 at the Hmong New Year celebration, Madison, Wisconsin, 2012.
Courtesy of Mai Zong Vue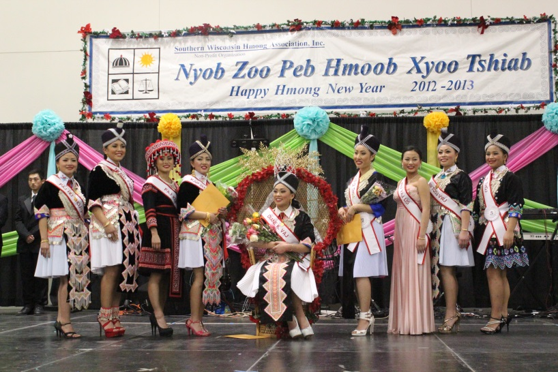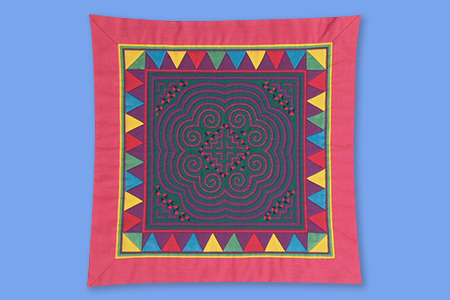 Paj Ntaub
Paj Ntaub featuring a reverse applique elephant foot pattern, ca. 1979.
WHS MUSEUM 1996.118.1
Phongsavan Market
Pai Yang founded Phongsavan Market in 2009 to feature Hmong and other Asian foods and products.
Courtesy of Mai Zong Vue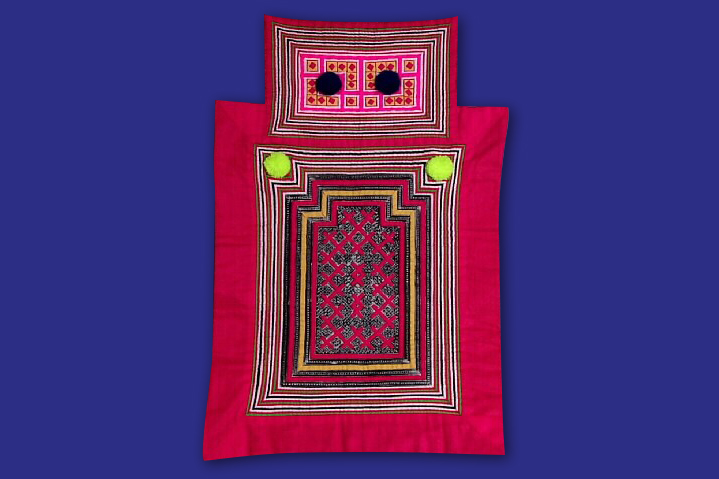 Baby Carrier
Baby carrier made by Mai Lee, Madison, Wisconsin, ca. 1986. The center panel and parts of the border are made of batik-dyed cloth.
WHS MUSEUM 1996.118.3
Dance Team
Dance team participating in the Hmong National Memorial Day Festival, Winnebago County Community Park, Oshkosh, Wisconsin, 2017.
Courtesy of Mai Zong Vue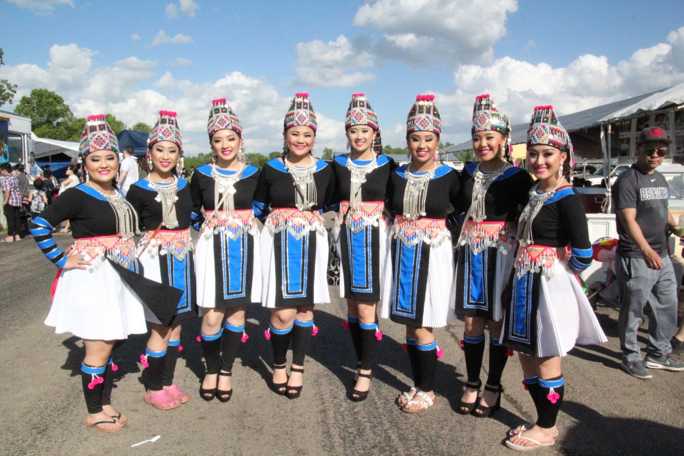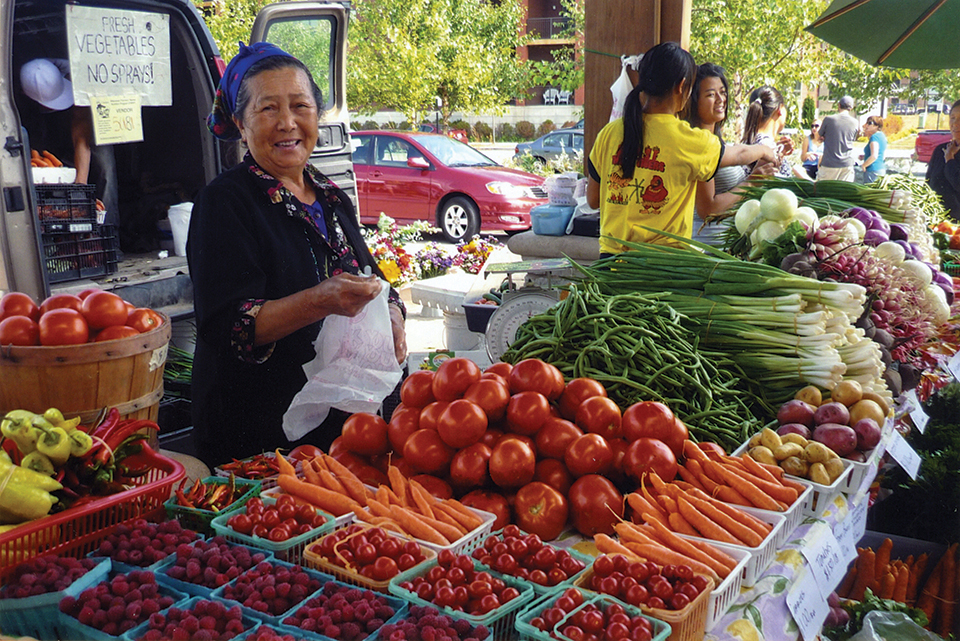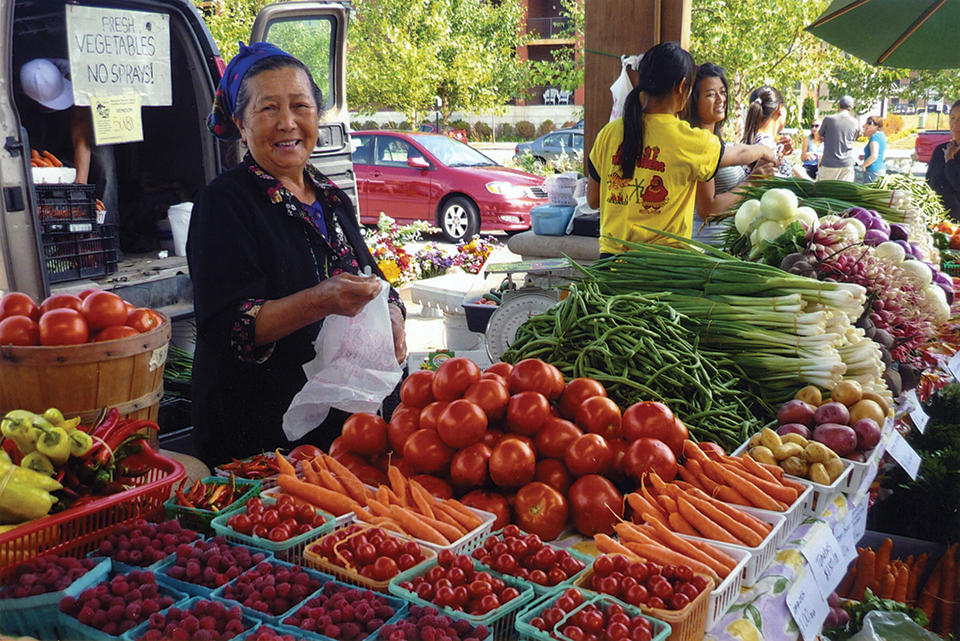 Nplias Yaj
Nplias Yaj, a farmer, sells vegetables at the Eau Claire Downtown Farmers Market in 2010.
Courtesy of Houa Moua
Khoua Vang Teaching
Khoua Vang teaches the Hmong language to students at the Eau Claire Area Hmong Mutual Assistance Association in 2018.
Eau Claire Leader-Telegram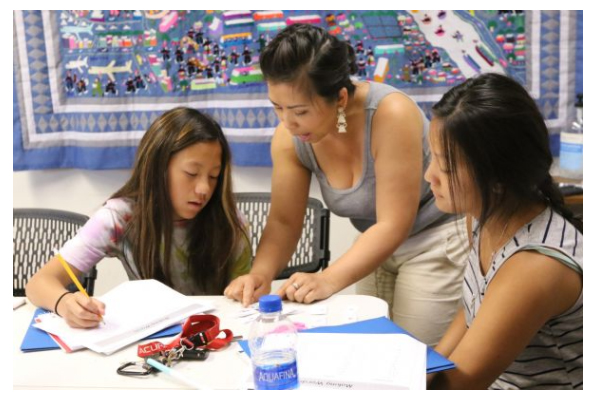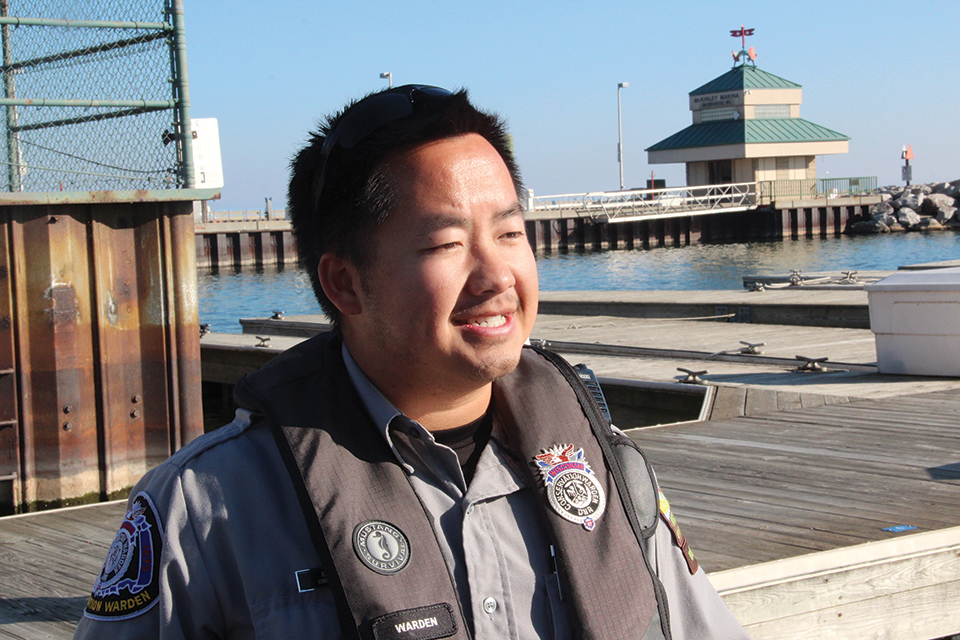 Ka Yeng Vue
Ka Yeng Vue became the first Hmong American conservation warden at the Wisconsin DNR. Photo by Paul A. Smith,
Milwaukee Journal Sentinel
---
NEW Wisconsin Historical Society Press Books
After a difficult and perilous journey that neither of his parents survived, five-year-old Pao Lor reached the safety of Thailand, but the young refugee boy's challenges were only just beginning. In this book, Pao Lor shares his inspiring coming-of-age tale about perseverance, grit, and hope. Included are discussion questions for use by book clubs, in classrooms, or around the dinner table.
In his own ways, reserved, soft-spoken, pioneering, and independent, Pao Lor is a storyteller and educator who has dedicated his life to helping tell the story of the Hmong American experience.
Today, in addition to Lor's dedication to preparing future educators, he focuses his research on the Hmong American experience, an emergent research area, and has published articles and given hundreds of presentations on Hmong American educational attainment, leadership, women, teachers, charter schools, and the Wat Thamkrabok Hmong experience.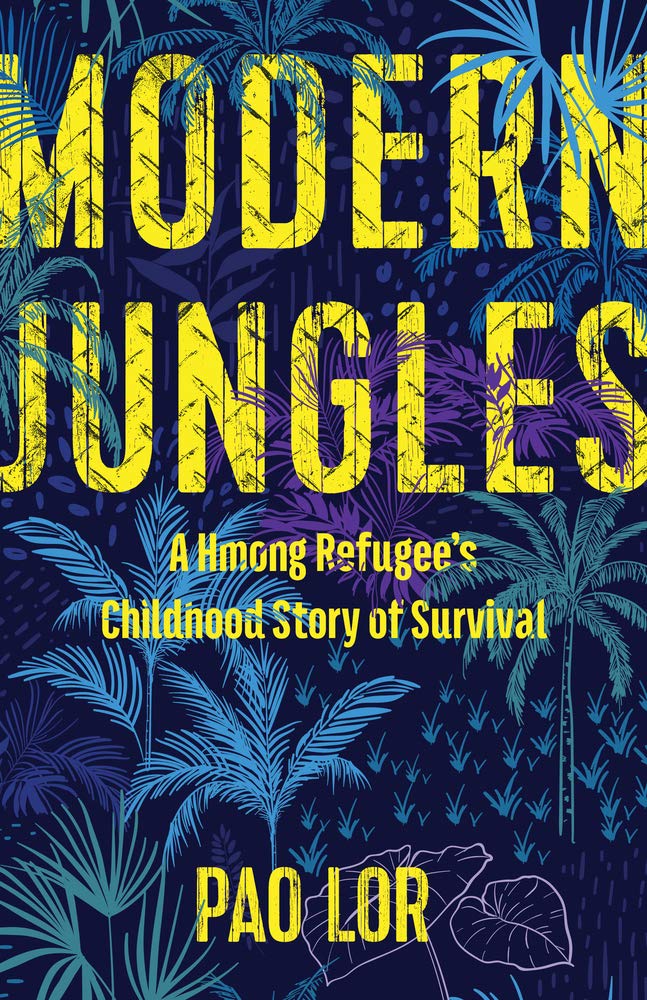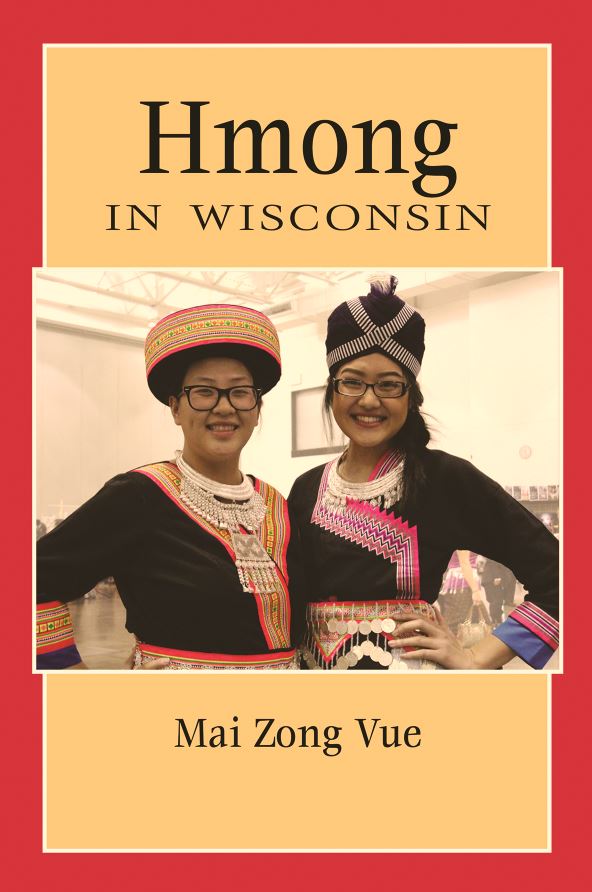 Unknown to many Americans at the time, the Hmong helped the US government fight Communists in Laos during the Secret War of the 1960s and 1970s, a parallel conflict to the Vietnam War. When Saigon fell and allies withdrew, the surviving Hmong fled for their lives, spending years in Thai refugee camps before being relocated to the United States and other countries.
Many of these families found homes in Wisconsin, which now has the third-largest Hmong population in the country, following California and Minnesota. As one of the most recent cultural groups to arrive in the Badger State, the Hmong have worked hard to establish a new life here, building support systems to preserve traditions and to help one another as they enrolled in schools, started businesses, and strived for independence.
Told with a mixture of scholarly research, interviews, and personal experience of the author, this latest addition to the popular People of Wisconsin series shares the Hmong's varied stories of survival and hope as they have become an important part of Wisconsin communities.